Picture books
It's school-time, princess!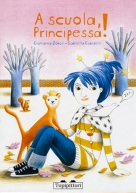 SKU: 978 88 89210 12 3
Dimensions: 0 cm × 0 cm × 0 cm
It's a hard life for Princess Drusilla. It's september and the first day at school is waiting for her. Is it really necessary to go to school? she asks her parents. The king and the queen are irremovable: studying is fundamental if you want to become a good sovereign. But how is the school really like? the princess asks to her friends and neighbours. Looks like each one of them has a different answer. And they are not reassuring at all. But are all these stories true or made-up?
Rights for all languages available