Crickets
The little man and God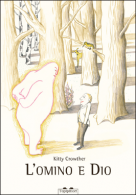 SKU: 978 88 89210 69 7
Dimensions: 0 cm × 0 cm × 0 cm
One day, Little Man is having a walk. Next to the path, he finds something.
«Don't be afraid»,said the thing.
Easy to say..., thinks Little Man.
«Who are you?» he kindly asks.
«I am God»
«You are God? The GOD? I didn't imagine you like that.»
So the dialogue between Little Man and God starts. Around them, a nature inspired by the vital breath that fills everything. Under the eye of the reader, the beauty of the creation becomes tinged with the brightness of the divine. Until, at the end of the day, it's time to go: Little Man and God say goodbye to each other. They come back to their place, full with the immeasurable mistery of this encounter.
Originally published in French by Pastel.