Picture books
There is room for everyone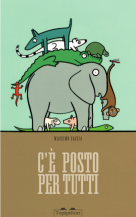 SKU: 978 88 89210 73 4
Dimensions: 0 cm × 0 cm × 0 cm
One of the most famous tales of the world reinterpreted through a modern eye. A classic of inexhaustible charm, Noah's ark never fails to fascinate children and adults alike. Massimo Caccia is a masterful wordless storyteller: his clear and ironic style helps him tell children the adventures of dozens of animals marching toward the ark through the simple yet profound beauty of surfaces, lines and colours.
French rights sold to La Joie de lire.
Rights for all languages available.