Almost classic Tales
Fables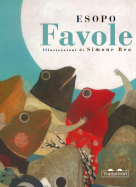 SKU: 978 88 89210 64 2
Dimensions: 0 cm × 0 cm × 0 cm
A new translation of the "classic of classics": Aesop's Fables. For the reader's surprise, the original texts are rather different from what we are accustomed to read since La Fontaine and the first modern adaptations. Simone Rea, a bright new talent of the italian illustration scene, defies the challenge of such a masterpiece, concentrating on the fascination for nature and animal life which exudes from every line of the tales we inherited from a humble Greek slave.
French rights sold to Actes Sud Junior, Greek rights sold to Ekdoseis Kokkino.
Rights for all other languages available.