Picture books
Miss Timothy's trip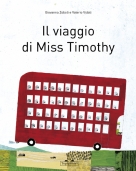 SKU: 978 88 8 9210 78 9
Dimensions: 0 cm × 0 cm × 0 cm
What happens when a sheep is no longer herself? That depends. A reluctant Miss Timothy is sent on a trip, in search of herself, by Mr. George, the most handsome shepherd in the whole Yorkshire. So, one morning at dawn, we find her at the bus stop, ready to travel the world over. But, surprisingly, she discovers that the whole flock will travel with her. One hundred sheeps travelling together around the world, in search of something. A hilarious, philosophical and mild tale about the most fashionable imperative of our times: finding oneself..
Published in Korean by Hankyoreh Childrens books.
Rights for all other languages available.