Nel 1789, e poi ancora nel 1794,
WilliamBlake
ha creato e stampato il più famoso dei suoi
illuminated books
, e quello che può essere consideratoil primo
picture
book
della storia:
Songs of innocence
.
In questo libro nonc'è nulla di specificamente riferito al Natale, ma si trova un preziosocanto all'infanzia: "Infant Joy". In controluce, in questo testo silegge il tema della Natività, dell'avvento di un bambino divino,privo di nome e di appartenenza, capace di rinnovare il mondo con lasua sola presenza, intatta e misteriosa.
I have no name
Iam but two days old.__
What shall I callthee?
I hapy am
Joyis my name.__
Sweet Joybefall thee!
Prettyjoy
Sweet joy but twodays old.
Sweet joyI call thee;
Thoudost smile
Ising the while
Sweet joy befallthee.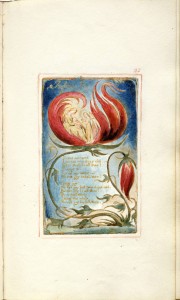 Ledue immagini che proponiamo sono tratte da libri che compongono lacollezione di tesori bibliografici donata da Lessing J. Rosenwald alla Library of Congress. L'intero corpus delle operedi William Blake è stato digitalizzato ed è accessibile da qui.
Una sintetica descrizione della tecnicadi stampa utilizzata da William Blake si trova qui.
Non c'è momento più adatto dell'anno diquesto, per riflettere su quel che ha detto ieriPaolo De Benedetti nelle bellissima trasmissione Uominie profeti, citando il Salmo 8: Dio parlaex ore infantium.